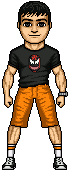 My name is Luís, and I'm a brazilian Micro-Hero Creator.
People know me by the nickname Carnage. I can say my goals on the micro-hero community are to make people evolve as I evolved (take a look on my old micros...), let people know about the History, and share some techniques.
An important thing is that nobody stops learning. So, I'm still learning, and hope to learn more yet.
My Real-Life History
I was born in 1988 in a brazilian town called Jaú. There's nothing more about my RL you'll know here. Get out!!!
My Micro-Hero History
By 2002, I was on a brazilian Comic Book related board called "Multiverso Bate-Boc@ ", known simply as MBB. There were many micro heroes used as avatars, as well some creators down there too.
Someday I thought: "Man... somebody gotta do a Don Ramón micro! Where I can find it!?". And I never found it.
So... I made it!

My first micro was a frankeinsteined Flash Thompson and Peter Parker, with a hat I designed.
Then I started to draw more. My early creations were resumed to draw things and frankensteining, because Wicket's site was unknown to me... I was proud with some of my first micros, like a Terminator, Battle Droids, MK, Saint Seiya, some Star Wars stuff...
ZBB was able to use my micros 'cause I was sending them to his e-mail... dang! What really made me evolve was the old MIB, where I met Strider, who taught me many micro techniques. But what I really love is face design.
Right now, I am retired from Micro Hero Creation. I tried to come back, but I saw that my art and my style are way old, as well I'm really busy in Real Life. But... who knows? Some old projects need to be finished.
And I forgot to mention we (me and Digclaw) are the first editors of Micro-Hero wikia. Enjoy and feel free to help us! Sorry for the bad English!
Feel free to message me if you want! See ya!
Links
You can find almost all of my micros on my (old) MIBII Gallery: